Noosa's Most Expensive Homes in Hot Demand from Buyers Across the Globe
The COVID-19 storm has spawned a hurricane of home sales across some of the Sunshine Coast's hottest tourist magnets as property punters report unprecedented buyer action from city-based sea-changers in search of a pandemic-free paradise.
The rise of remote work and virtual inspections amid record low interest rates has further sparked the coastal migration with popular hub Noosa clocking millions of dollars in sight-unseen sales alone during the past month.
Adrian Reed, from Reed & Co Estate Agents in Noosa, said buyers from Brisbane to as far away as Hong Kong had pounced on the region's high-end market, with the agency transacting $60 million in sales from April until August.
"It feels like there's a gravitational pull towards those idyllic locations … and this trend has continued throughout COVID," Mr Reed said.
"We sold $26 million in the past couple of months alone sight unseen.
"They are buying from abroad and domestically and then from Brisbane … and I think it's likely to continue."
He said the skyrocketing sales action had particularly centred around Noosaville, with $6 million of off-market property sold in the past six weeks.
The agency also clocked the latest Noosaville record for the spectacular mansion at 32-36 The Anchorage, which fetched $12 million. The property features 13 bedrooms and was the former home of the late businessman and founder of Hayco, Donald Hay.
Dan Neylan, from Dowling and Neylan agency in Noosa, said in his 27 years of real estate experience he'd never seen such incredible buyer activity.
"The average time on market for us has shrunk back to three weeks and most of our auctions are not even getting to auction," he said.
"We had a sale for an apartment on the weekend where the reserve was expected to be $5.5 million but it sold for almost $6.5 million.
"Our biggest one was the sale of 46 Seaview Terrace which was Pat Rafter's previous home – and that was sold in excess of [a record] $17 million at the end of May to the Rudds. They just saw the long-term value of Noosa."
Mr Neylan said interstate buyers were particularly snapping up homes like hot cakes with the agency handling more sight-unseen sales than ever before.
He said many home hunters claimed the growing work-from-home-movement had finally allowed them to have a remote career from an idyllic place – and they were wasting no time pouncing on regional, coastal destinations.
"The future for us is pretty rosy and that's going to last for the next two or three years and by then the international airport will be finished," he said.
Tom Offermann, from Noosa's Tom Offermann Real Estate, agreed the fierce buying storm was set to continue during spring with Brisbane buyers competing against interstate and overseas house hunters.
"This winter was like no other and out of the disruption caused by COVID came a storm of buying activity," he said.
"We're also seeing capital growth rates between 10 and 15 per cent … with the hot locations typically on the riverfront and the beachfront."
Mr Offermann said last week's sale of apartment 1 at Noosa's prestigious Little Cove for a cracking $6.3 million following 38 bids from eight buyers, was the perfect example.
"This sale capped off another very successful week … with a string of high-value sales which included two breaking $10 million.
"There's also been a string of nine sales between $5 million and $12 million but we can't announce them yet because they haven't settled."
Despite the strong selling activity Mr Offermann said their agency was running at about 50 per cent of their normal stock levels, with nervous vendors still reluctant to pull the trigger amid the global uncertainty
This article is republished from https://www.domain.com.au/ under a Creative Commons license. Read the original article.
Urban dwellers create 'unprecedented demand' in regional hubs amid tree change trend
It's no secret rusted-on city slickers have used the pandemic as a catalyst to pursue a life filled with the early calls of kookaburras, rainforest hikes and evenings winding down on a golden beach.
And regional homes have become such hot property that real estate agents in major rural hubs are now reporting major shortages, as buyers from Melbourne to Perth escape the concrete jungle.
Hotspotting founder Terry Ryder, who recently published a report titled Exodus for a More Affordable Lifestyle: Regional Areas become Hot Property, said regional towns offered a tonic for city dwellers overcome by pandemic-induced malaise.
"While pre-COVID living in a regional town and working for a city-based company may have seemed impossible, the lockdown phase has shown … [home owners] can effectively work from home and no longer need to battle peak-hour traffic to be productive," Mr Ryder said.
Mr Ryder identified Bendigo in Victoria, the Central Coast in New South Wales, Queensland's Sunshine Coast and Rockingham in Western Australia among regions to capitalise on the tree change trend.
Buyers get more bang for buck in regional areas
Beyond a stripped-back lifestyle, he said buyers sought affordability as prices in capital cities continue to climb.
It's a major factor Josh Kibble, a sales manager at Albury's Drummond Real Estate, said inspired Melburnians with "pretty big money" to uproot and start a new life near the mighty Murray River.
Mr Kibble told The New Daily Melbourne's average price ($666,796) could comfortably fetch a four-bedroom, two-bathroom property with 250 square metres of living space on a 700 to 1000-square-metre block.
"I've had five listings put on just this week and they've all sold – we're not used to that rapid pace in our real estate market," Mr Kibble said.
"I've been in real estate for 10 years and this is probably at its peak in respect to sales, volume and some of the prices we're getting at the moment, and we're starting to see the tree changers come through."
City dwellers cause prices to spike – and markets to slow
Sunshine Coast real estate agent Melissa Schembri, from Next Property Group, said interstate demand was so high that a local private school received 300 applications from Victorian families in August alone.
Ms Schembri said she now fields roughly six calls a day from Melburnians and Sydneysiders for most properties on her books, with many resorting to FaceTime walkthroughs and sight-unseen purchases.
"I reckon it's the 40 to 60-year-old age group inquiring the most, and many said they wanted to relocate here because they've been trying to run a business while juggling home school and being locked down," Ms Schembri told The New Daily. 
"We sold $20 million worth of waterfront property on Culbara Street in Mooloolaba in July, and every single one of those buyers came from Brisbane, Sydney and Victoria."
Ms Schembri said the demand for waterfront living within an hour's drive of the hinterland has created a 10 per cent spike in prices.
In other booming regional cities, however, agents have had to intervene to ensure there are still properties available on the market.
Sims for Property director Richard Sims, who works out of Launceston, said demand for the Tasmanian city – which commands an average price tag of $350,000 to $400,000 – has become so intense that agents have been forced to slow down sales.
Mr Sims told The New Daily affordability and a strong economy – which counts major brewer James Boag and the University of Tasmania among its contributors – had combined to create "unprecedented demand".
"From a property transaction point of view, we were up nearly 40 per cent on the June quarter," Mr Sims said.
"Demand for these properties is so high that we have to give people time to get connected, and with so much interest from multiple purchasers, it no longer becomes what the home's worth, it becomes what individuals are prepared to pay in that competitive situation."
New-found buyer interest creates 'a nightmare'
Mornington Peninsula-based Seachange Property director Geoff Oxford also said buyer interest has peaked in the three weeks since agents in Melbourne were again allowed to conduct private inspections.
Mr Oxford said the current period has been an "absolute nightmare" as clients from young families to retirees seek out a sea change.
"I would usually do two half-hour inspections for a house which would get 30 groups through, but now I have to book 30 15-minute inspections for the same amount of people," Mr Oxford told The New Daily. 
"Not only that, buyers' interest has spiked by roughly 500 per cent.
"The conversations are the same. COVID has given [buyers] a realisation that everything we lived in the city for no longer exists and can settle near a beach with good infrastructure, golf courses and hot springs."
Shelly Jurd, real estate director at the Hunter Valley's Jurds Real Estate, said half the buyers in the area were hunting a permanent regional move, with 75 properties totalling more than $100 million sold since March.
Ms Jurd said the trend caused homes to "sell like hotcakes".
"We've never seen anything as strong as this," Ms Jurd told The New Daily.
"Some properties are only staying on the market for a couple of weeks where they might have previously taken three to nine months.
"It's certainly been [driven by] an exodus from the city, and there's also been a lot of feedback that buyers don't know when they'll get to travel again, so they think it's a good time to buy a weekend retreat."
Australia's top 10 affordable tree change locations
Mornington Peninsula, Victoria
Central Coast, NSW
Orange, NSW
City of Rockingham, WA
Launceston, Tasmania
Hunter Valley, NSW
Albury/Wodonga, NSW/Victoria border
Latrobe Valley, Victoria
This article is republished from thenewdaily.com under a Creative Commons license. Read the original article.
Buyers Seeking Greener Pastures Are Finding the Potential in Australia's Untapped Markets
Demand for luxury property outside Australia's major centers is outstripping supply as wealthy homeowners swap city residences for beach houses and country estates. As a result, the pandemic-inspired outmigration is creating upward-price pressure in some previously untapped places.
Since COVID-19 arrived in Australia, affluent families from the country's capital cities (and expats from around the world) have been seeking greener pastures where they can get more square footage for their dollar and an iso-friendly home with ample land and a home office.
Historically, Australia's eastern cities—predominantly Sydney, Melbourne and Brisbane—have seen the greatest sustained price growth in the country. However, in a post-Covid-19 "work from home" world, that natural order has been turned on its head.
Although regional prices are on the rise due to domestic movements, international investors can find great value due to a weakened Australian dollar. The potential for great deals and future price growth on luxury property in stunning Australian locations is out there, but savvy buyers just need to know where to look.
More: In U.S. College Towns, Vacant Student Housing Poses New Opportunities for Buyers
Pandemic Price Boom
One standout market during Covid-19 sits hundreds of miles from the once booming big cities. Byron Bay, Australia's most easterly town located in the state of New South Wales, is home to a permanent population of just over 9,000 people but has the highest median house price in the country. That figure jumped from A$1.335 million (US$960,000) in January to A$1.568 million in September, according to data from Hometrack Australia, while the major cities experienced price falls.
In just the three months to the end of September, Sydney's median house price dropped by 1.7% to A$983,262, Melbourne's fell by 3.7% to A$870,836 and Brisbane had zero movement, staying at A$559,646.
Byron Bay, which is 470 miles north of Sydney and 103 miles south of Brisbane, was already shaping up as Australia's playground for the rich and famous prior to the pandemic. The bohemian beach town is surrounded by picturesque rainforest hinterland that is peppered with multimillion-dollar homes. It began drawing global attention when Hollywood heavyweights like Chris Hemsworth, Matt Damon and Zac Efron either bought or rented luxury residences in the area.
Local realtor Christian Sergiacomi of Pacifico Property said while the location was hot property before Covid-19, the pandemic made it surge.
More: A Case for London's Resiliency
"At the beginning of coronavirus, I was getting multiple calls initially from Singapore, Hong Kong, Dubai, U.K. and then the U.S., Canada and Ireland— just everyone. I'd get off one call and I'd have a handful of messages with more inquiries."
He said competition to secure a property had been so fierce, buyers were dropping millions of dollars on homes they hadn't set foot in and couldn't for months due to lockdown.
Mr. Sergiacomi's team sold a charming four-bedroom character bungalow in the heart of Byron Bay in June, during the height of Covid-19 restrictions. The renovated property went for its full asking price of A$3.6 million in less than one week.
Deborah Cullen, partner at prestige brokerage Cullen Royale, has been working with affluent homeowners buying country estates for years. One tightly held region, the Southern Highlands, less than two hours southwest of Sydney, is another playground for wealthy weekenders seeking a glamorous getaway and the chance to rub shoulders with the likes of Nicole Kidman and Keith Urban, who bought a compound there more than a decade ago.
More: 3 Luxury U.S. Markets With Steady Growth That Still Offer Opportunities at Relative Bargains
"It's an interesting time. A lot of my clients during Covid have chosen to base themselves from their farms or coastal properties where they have more space. Quite a few have even decided not to come back, with some going the extra step and enrolling their kids at local schools," she said.
"It's amazing—they've effectively swapped their city properties for their holiday homes, turning them into permanent homes."
Value in Looking Outside the Box
Savvy buyers willing to house hunt outside highly sought-after markets such as Byron Bay are likely to find growth in the untapped neighboring regions, according to Mr. Sergiacomi.
"I'm a big believer in the Ballina region. It's got several beaches and an airport that upgraded its terminal and doubled its tarmac size prior to Covid. There's also a beautiful river system, a marina and infrastructure that's the best in the region. The suburbs there have just as much sun, plenty of space and beautiful geography—and it's only 15 minutes from Byron," he said of the area. In Ballina central, the median house price is A$630,000, it jumps to A$800,000 in East Ballina.
More: A Rise in Demand for Urban Three-Bedrooms Means Sellers Could Command Top Dollar
Several high-profile restaurants and boutiques, once exclusive to Byron Bay, have also begun opening locations in the nearby Ballina region, indicating to investors that the area has potential.
Mr. Sergiacomi said that buyers willing to look beyond the Byron Bay "brand" could secure themselves a luxury lifestyle for less, with the opportunity of price growth.
Ms. Cullen added that with such an influx of wealthy homeowners investing in regional Australia, these once remote towns will be transformed.
"I'm really excited for these country areas which have gone through droughts and then bushfires at the start of the year to now," Ms. Cullen said. "Finally, people are wanting to live there and build great communities."
While the Covid-19-inspired rush to buy in the exclusive Southern Highlands continues, Ms. Cullen said buyers should also consider other regions within a couple of hours of Sydney.
"There is still potential for growth on the Central Coast and the Hunter Valley region. Also, the Hawkesbury area down through the valley and on the river; that's been seeing a lot of attention of late, she said.
Where Investors Can Mine Untapped Markets
Simon Pressley, market analyst and managing director of Brisbane-based buyer's brokerage Propertyology, said outside of New South Wales, the most expensive and populous Australian state, there were multiple locations where US$1 million would easily secure a luxury home and lifestyle that would otherwise set buyers back multiple millions in the major cities.
"Since Covid, there's been a flight away from the capitals and a greater appreciation for the core values of living. I'm not saying everyone's going to buy an acreage and become a farmer, but we are going to see arguably the biggest drive for acreage properties that are within a reasonable commute of a major city center," he said.
Melbourne, in the southern state of Victoria, has been hardest hit by Covid-19 with the majority of cases and deaths, therefore it has endured the strictest Australian lockdown. As a result, many wealthy Melburnians have been seeking space and serenity.
"If you're looking for a fantastic lifestyle and value for money, then I would say Bendigo. It was a booming town during the gold rush era in the 1850s, so it's home to some amazing Australian history and architecture. They had buckets of money to build, but they did it with style, and it's still like that today," he said.
More: As Winter Approaches, Caribbean Islands May Be a Lure for Both Investors and Second Home Seekers
Bendigo, which sits 93 miles northwest of Melbourne, has a population of just under 100,000 and a median house price of just A$435,000.
Tropical North Queensland, which is home to the famous Great Barrier Reef and Whitsunday Islands, is "unbeatable" according to Mr. Pressley.
"You could easily find luxury properties starting from about A$1.5 million up there," he said. "The Great Barrier Reef is a wonder of the world, and the city of Cairns is on the doorstep. It has a major airport, the closest Australian international airport to Asia in fact," he said.
"Then you've got Noosa, which is arguably one of the hottest markets in Australia right now. Even though over the last 10 years, the Queensland economy and property market has been weak, Noosa has defied that trend," he said of the boomtown just two hours from Brisbane.
More: The Pied-à-Terre Could Make a Comeback With Buyers Who Want to Maintain Connections to Cities
September data for Cairns showed a median house price in the luxury suburb of Palm Cove sitting at A$730,000, while further south in Noosa the figure was A$1.155 million.
Property prices on Tasmania, or the "Apple Isle," have been on the rise. The island state saw a 8.7% in house prices in 2018, and a further spike of 4.2% in 2019. Given that mainlanders are seeking space and cleaner air, quality Tasmanian property remains highly sought-after.
"You could name anywhere, it's stunning, and for not much money, you can get a place on the water," Mr. Pressley said. "Whenever I'm referring it, I like to heavily emphasize that it has the world's best produce; whether that's wine, beef, dairy, vegetables, or berries— it's literally the best.""
A boom in property prices has also coincided with an upswing in tourism to Tasmania, which translates to a plethora of opportunities for people migrating to or investing in the state. He highlights the second largest city of Launceston as one to watch. While its median house price is A$470,000, palatial properties such as the historic five-bedroom home, Glenfruin (currently listed at A$3.54 million) would be asking upward of A$20 million in an exclusive suburb of Sydney.
"I'd say A$2 million would really be the upper limit of what you'd pay for a beautiful property there. It's very affordable," he added.
This article is republished from mansionglobal.com under a Creative Commons license. Read the original article.
Gold Coast property sellers rake in millions from local, interstate buyers amid pandemic
The Gold Coast is cashing in big bucks from the global health crisis with millions of property dollars splashed over the past month alone following a stellar sales quarter that experts say has thrust the region forward by a decade.
Following a pandemic-fuelled surge in tree and sea-changers, local and interstate buyers have pounced on "bargain lifestyle homes" from the Glitter Strip to the Coast's lush hinterland, with bottomed-out interest rates further swelling the flood that's tipped to continue into next year.
A Surfers Paradise mansion led last month's sales charge, and is set to blow more than a decade of Queensland property sale records out of the water.
While the sale was shrouded in secrecy, selling agent Amir Mian, of Amir Prestige, confirmed the $27 million sale of a new property perched on the main river of Surfers Paradise on a 2900-square-metre block, snapped up by an interstate buyer with local connections.
"That was the top sale in Queensland in 13 years … it's very good news for the prestige market here and the market in general," Mr Mian said.
"In fact I think the pandemic has been good news for the Gold Coast … it has been a blessing in a disguise and to us what should have happened in a decade has been brought forward [thanks to the COVID-19 crisis]."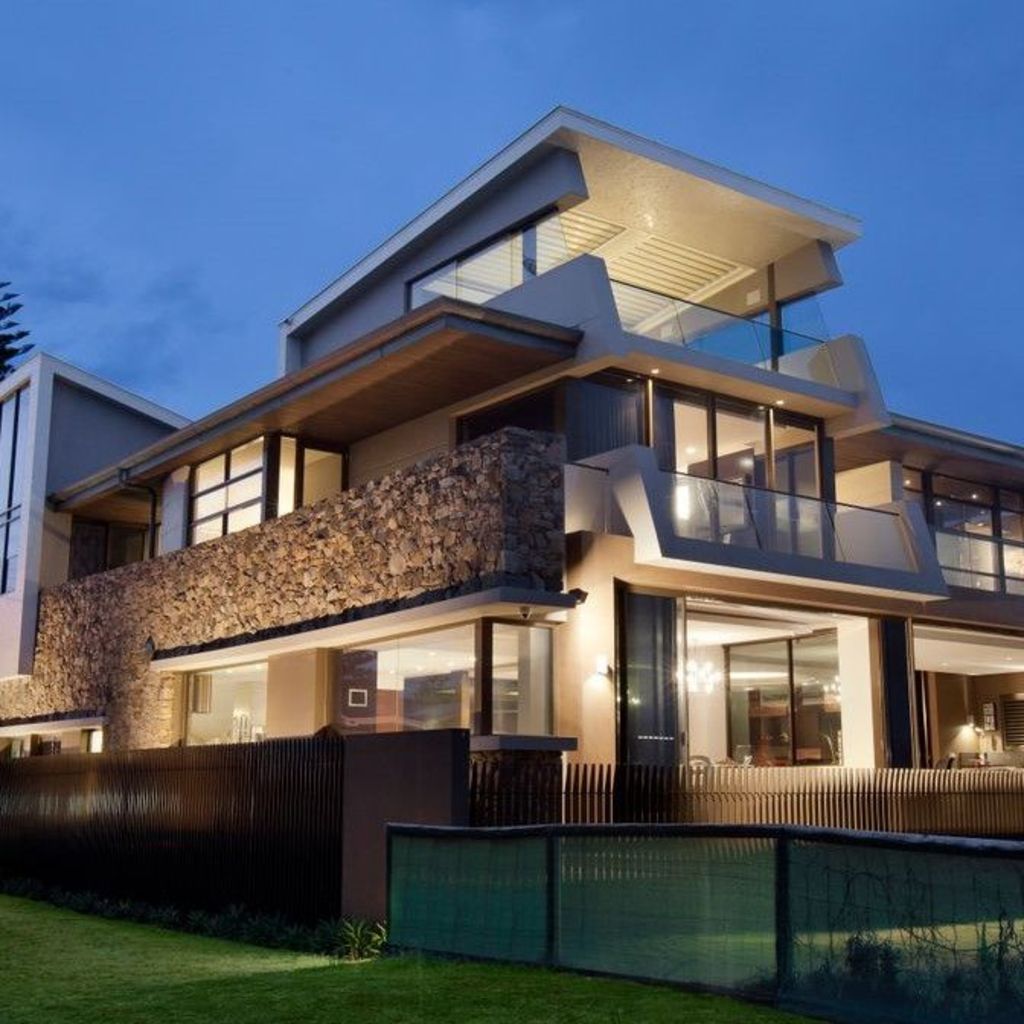 In the past month Mr Mian also sold the architecturally designed 187-191 Hedges Avenue in Mermaid Beach for a whopping $22.6 million to a local buyer.
This article is republished from domain.com under a Creative Commons license. Read the original article.