How to make a tiny Ipswich garden terrific
LANDSCAPE expert Charlie Albone gives his top tips for creating an inviting garden in a tight spot. If you're a fan of real estate you would be more than aware of the phase 'Street appeal' and understand that obtaining good street appeal should be high on your list of things to accomplish. It can be…Read More→
LANDSCAPE expert Charlie Albone gives his top tips for creating an inviting garden in a tight spot.
If you're a fan of real estate you would be more than aware of the phase 'Street appeal' and understand that obtaining good street appeal should be high on your list of things to accomplish. It can be extremely difficult to make the front of your house look attractive if the whole area is taken up by a car parking space. Here are my top tips to try and achieve an inviting front garden in a tight spot.
Tight front gardens usually have a joining wall between properties and its imperative you try and green this wall up as plants have an amazing way of expanding the field of vision making the space feel larger. My favorite option is a green wall or vertical garden as they give maximum plant numbers with minimum footprint but they are expensive. Other options include slim line pots with climbers that can be grown on wires or if you have a bit more room a thin garden bed with some shrubs that can be pruned tall and thin. If you really are tight on space and just can't fit any plants in joining walls can be dressed up with modern timber screening or laser cut metal screens.
As you should try and have the car out of the parking space for viewings take some time to think about the flooring you have. In an ideal world natural stone is the most attractive and darker coloured stones are the most practical but in most cases the flooring is in place and 9 out of 10 times its concrete. Concrete can be pressure washed and cleaned up but by adding a sealant with a stain will make the whole slab look brand new and the colour will last 6-8 times longer than using a paving paint.
If you don't use your parking spot on a regular basis think about adding a bit of green by installing lawn. In usual installation the plants roots compact under the pressure of a car and inevitably the grass fails but these days there are plastic reinforcing and drainage grids that protect the roots from compaction and allow water to drain through them making them environmental friendly.
Another common sight in a small front garden is the carport and these are huge culprits for making the space feel like a dark uninviting dungeon. The easiest way to lighten these up is to paint the frame in a light colour, as this will reflect light underneath to the darkest parts. Replacing the roofing with transparent or smoke coloured polycarbonate will also allow light in whilst keeping the UV rays out.
Original article published at www.news.com.au by Charlie Albone    News Limited 11/7/2013
Best Locksmiths in Brisbane
Below is a list of the top and leading Locksmiths in Brisbane. To help you find the best Locksmiths located near you in Brisbane, we put together our own list based on this rating points list.
This article is updated every 3-4 months.
Brisbane's Best Locksmiths:
Here are the leading Locksmiths in Brisbane:
Access Locksmiths
Chermside Locksmiths
Hamilton Locksmith
Access Locksmiths
Access Locksmiths – Based in Brisbane, Australia—they get the job done tactfully in no time. They are a 24/7 emergency locksmith for their client requirements. Access Locksmiths Brisbane is an outstanding market leader in securing your homes, as well as your commercial premises. Their staff had the finest and extensive trainings, plus years of practicing their expertise that has molded them to be the best people for the job–with our certified Master Locksmith Staff, they assure you of accurate diagnosis and the best remedy for your lock issues.
Products/Services:
Master Key Systems, Restricted Master Key Systems, High Security Master Key Systems, Alarm Installations, Back to Base Alarm Monitoring, Electronic Access Control Systems, Strata Services, Routine and Programed Maintenance, Digital Locks, Absolute Key Control, Key Control Software, Secure Key Cabinets, Secure Key Rings, Safe Removals and, Installations, Safe Servicing, Real Estate Work, Locks Rekeyed, Digital Locks Supplied and Installed, Locks Repaired or Replaced, Door Closers, Blocker Plates Installed, Filing Cabinet Locks, Drawer Locks
LOCATION:
Address: PO Box 1600, Toombul QLD 4012
Dispatch Office: Crosby Rd, Ascot, Brisbane 4007.
Phone: 07 3359 9933
Website: https://accesslocksmiths.com.au/
Chermside Locksmiths
Locksmiths Chermside are your local professional locksmithing service.
Their fleet of qualified locksmiths provide locksmithing services across the Chermside region, Aspley, Geebung, Nundah, Virginia and other northside suburbs.
Their reputation for high quality and trusted work has seen them around for over 27 years servicing domestic, commercial and industrial premises.
Products/Services:
Home and business lock & key services, Access Control, Safes, Master Key Systems, padlocks, deadbolts, latches, Door Closers, Garage Roller Door Locks
LOCATION:
Address: Chermside and local suburbs
Website: https://locksmithchermside.com.au
Hamilton Locksmith
Hamilton Locksmiths is a small family business located in Brisbane's northern suburbs. They provide an old fashioned level of customer service.  They have been in operation for over 40 years and have an extensive client base acround Hamilton and neighbouring suburbs. At present we predominately provide prompt security solutions on a commercial basis, as well as catering to walk-in jobs via our shop front.
With our reputation of high standards in catering to our clients' needs and maintaining high finishing standards on all jobs we are well respected within the industry.
Products/Services:
Standard duplication, Key cutting from code, , Safe keys, Old fashioned keys, Lock Repair, Lock Opening, Lock Installation, Lock repairs and maintenance, Door closer fitting and maintenance, Lock rekeying, Emergency Call Outs, Master Key Installations
LOCATION:
Hamilton and neighbouring suburbs
Phone: 0404 159 369
Website: www.locksmithhamilton.com.au
South East Queensland auctions heat up as spring brings out more buyers
A tech entrepreneur living in Silicon Valley, California, used FaceTime to bid on and buy a property in Brisbane's inner north at the weekend.
The man, originally from New Zealand, snapped up the modern, five-bedroom Queenslander at 37 Howard Street, Grange, for $1,715,000.
Ray White principal and auctioneer Alistair McMillan said the buyer had not physically inspected the property before making the winning bid.
He was one of six bidders at the auction for the double-storey property, which also had a swimming pool.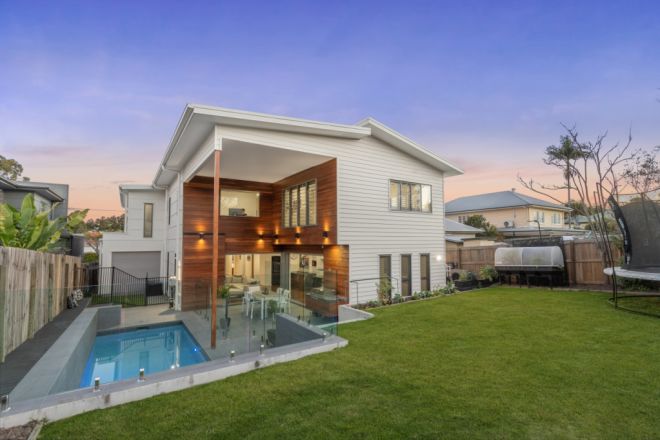 37 Howard Street, Grange QLD 4051
View listing
"The buyer is planning to move in the coming months and is preparing for the [coronavirus] quarantine," Mr McMillan said.
The property had also attracted buyers from Sydney and Melbourne looking for the Queensland lifestyle, Mr McMillan said. They were also unable to inspect in person.
"We have international buyers from places like Hong Kong, and many buyers from Sydney and Melbourne, many of whom are from Brisbane originally and wanting to move back, which is interesting," he said.
Originally from Victoria, the vendors, who had moved to Queensland for the lifestyle, are now moving back to Melbourne after receiving an excellent job offer, Mr McMillan said.
The Grange auction was one of the biggest sales reported for the weekend in South East Queensland.
Brisbane's preliminary clearance rate sat at 36 per cent after 31 auctions were scheduled and 22 results reported. Just two properties were withdrawn from auction.
Agents reported big crowds as the spring market continued to heat up and more buyers looked for a new home.
In the inner west, more than 100 people turned up for the auction of a four-bedroom home, which also had its own tennis court.
The size of the property at 12 Columbia Street, Chapel Hill — more than 2700 square metres — made it easy for people to socially distance.
The property sold under the hammer for $1,375,000.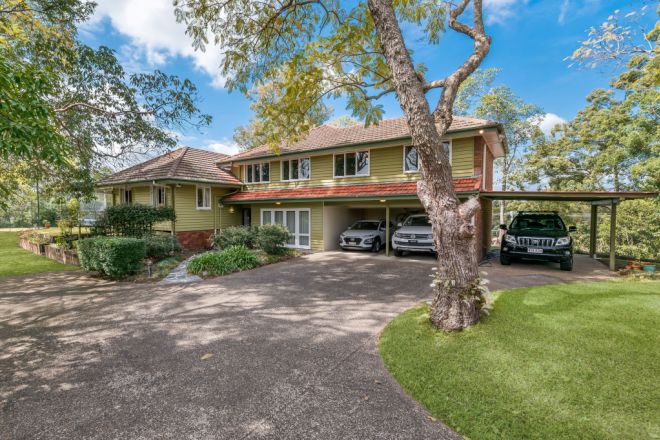 12 Columbia Street, Chapel Hill QLD 4069
View listing
Ray White MetroWest principal Craig Sharp said 14 registered bidders fought it out for the keys, with a young family moving back to Brisbane from Sydney the winning bidders.
"The sellers have been in this much loved home for over 40 years, so it has been a long time in the making," Mr Sharp said.
One of the buyers had grown up nearby the home and was ecstatic to be moving back to her old "stomping ground".
In the city's south, a five-bedroom home at 33 Percival Terrace, Holland Park, sold for $936,000.
Ray White Holland Park's Joseph Leong said five bidders registered at the auction, with a young couple buying the home. They had made an offer of $835,000 before the auction.
The vendor, a lady looking to downsize, was very happy with the result, Mr Leong said.
"The market is going crazy at the moment; we just launched a house this week which had over 70 groups come through the first open home," he said.
This article is republished from www.domain.com.au under a Creative Commons license. Read the original article
Building Approvals Go Backwards in August
New housing approvals have fallen 1.6 per cent across August as the Covid-19 pandemic continues to put a dampener on jobs and consumer confidence.
The fall was driven by private sector dwellings, excluding houses, which decreased by 11 per cent while a significant fall in the number of apartments approved in August offset the rise in July.
Approvals of new apartments, townhouses and semi-detached dwellings dropped almost 13 per cent across August and outweighed the monthly 4.6 per cent increase in approvals of stand-alone homes.
Despite a second wave of infections halting Victoria, new dwelling approvals lifted by 1.8 per cent over the month, with apartment approvals also lifting by 1.8 per cent.
Western Australia, supported by the Home Builder package but as well as additional state based grants, saw residential approvals gain almost 34 per cent with standalone home approvals lifting by 33 per cent.
There were also gains in Queensland, up 8 per cent, with the state also benefitting from a 13.4 per cent month-on-month increase in standalone homes.
▲ The outlook for new residential construction remains subdued as border closures, uncertainty over migration flows and changing preferences for housing impact demand.
However, approvals in NSW went backwards, falling 14.2 per cent month on month while unit approvals suffered a 32 per cent loss following the 63.9 per cent jump in July.
South Australia and Tasmania also saw falls of 4.8 per cent and 26.2 per cent respectively.
ANZ senior economist Catherine Birch the continued economic contraction, lower inbound migration and Covid-19-related restrictions in Victoria remained key contributors to the softening in demand for new homes.
"Over the remainder of 2020 and into 2021, low population growth, the weak labour market outlook and the deterioration in the rental market in some parts of the country will weigh on residential approvals," Birch said.
"But we expect house approvals to be more resilient than unit approvals, due to HomeBuilder."
The HomeBuilder initiative seems to have had some effect, with the value of alterations rising by 7 per cent in August to be at its highest level since April 2016.
The value of total building approvals rose 18 per cent in August, in seasonally adjusted terms.
Meanwhile the value of non-residential building lifted sharply, to 41 per cent above its July figure, which saw falls of 19 per cent last month, driven by large public projects in Queensland and the Northern Territory.
CommSec senior economist Belinda Allen said the August results underlined a growing divergence in the type of approvals occurring across the varied markets.
"A move to more flexible work from home arrangements could see a shift in demand for the type of housing and location of housing," Allen said.
"Already rents are weaker in inner city areas when compared to suburban rents, as are vacancy rates.
"This trend could continue as households look for more space and even consider a tree or sea change.
"One opposing force could be the push for more build-to-rent properties."
Allen said Commsec now expects the rapidly deteriorating home-building market to continue to fall across the remainder of the year and well into 2021.
This article is republished from theurbandeveloper.com under a Creative Commons license. Read the original article