How escaping the city could boost your purchasing power
With house price growth across the nation's capital cities continuing to rise, many home buyers are choosing to escape the city in a bid to increase their purchasing power and gain more bang for their buck.
With many buyers feeling priced out of the property market in their city, some are making the decision to relocate to the outer suburbs or regions in an effort to realise their dream of home ownership.
"Buyers sometimes can't believe it. They are scratching their heads that it's possible that they can sell where they are in Sydney and have plenty of change left over to have a good lifestyle," Belle Property Lake Macquarie sales director and auctioneer Matthew McBrearty said.
"It's opened their eyes to further possibilities."
Brisbane-based buyer's agent Jayne Robbins, of The Informed Buyer, said it was not just city buyers relocating within their own state, but she had noticed a current trend of buyers moving interstate from Sydney to Brisbane.
"In their considerations they see the lifestyle up here in terms of commute time, and education [as appealing]," she said.
"It's that commute; an extra hour in the day, what would you do with that? The extra commute is the difference between having dinner with your kids or not."
Ms Robbins said the pandemic has provided flexibility within workplaces so that employees could discuss the possibility of living and working remotely from another state.
Where people are moving
Queensland
Queenslanders are trading the city for the regions at an increasing rate, according to LJ Hooker Fraser Coast director Tony Sprake.
"It's been a trend that has been growing over the last 10 years but it's been an absolute acceleration beyond any comprehension the last 12 to 18 months, which so happens to coincide with the pandemic that we are all governed," he said.
He had noticed an enormous exodus of people from the Gold Coast, in addition to the Sunshine Coast, where they were choosing to capitalise on market growth and head north, where their purchasing power was greater.
Suburban areas of Hervey Bay and Fraser Coast, where an average house was considered more affordable, were popular with buyers escaping the city, he said.
"It is a less hectic lifestyle and the fact that we have direct flights to Brisbane and Sydney, allows [buyers] to still have the connection to metropolitan Australia," he said.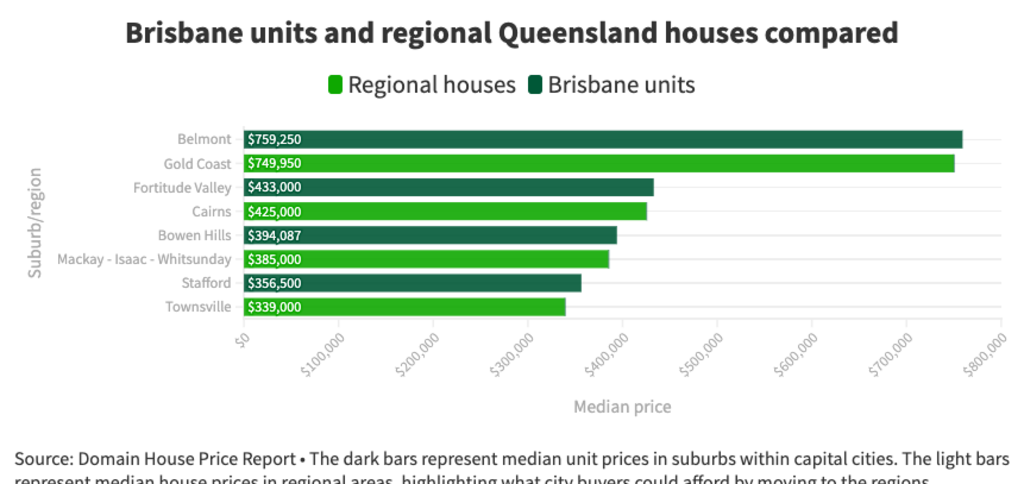 Source: Domain
What to consider before making the move
When it comes to making the choice to relocate, lifestyle and employment were key considerations, Empower Wealth managing director and property investment adviser Ben Kingsley said.
"It's going to come down to your lifestyle design," he said. "What is more important to you? Is financial wealth a strong driver for you, or is work life balance a strong driver?"
"Ultimately, we all need income to survive, so what are the job prospects like in the new area that I am going into? I would be always mindful of, if you are going into a very high tourism centre, as  usually the job prospects are going to be related to that industry.
"There is not going to be a lot of white-collar type work to be done there and the incomes are going to be appropriate to hospitality industries."
Typically, Mr Kingsley said the cost of living and affordability was considerably better in locales away from the city.
"You will see a pick-up in regards to your costs of living, so if you maintain remote working and [your] higher income then it's a bonanza for you. But if you can't, and you are moving to these remote locations and are willing to take a 20 to 30 per cent pay cut, that's still appropriate for that particular market."
Article Source: www.domain.com.au
Olympic Village's Green Bridge to City Revealed
Plans for Brisbane's newest pedestrianised Green Bridge have been finalised and lodged for approval, according to Lord Mayor Adrian Schrinner.
Construction of the bridge would be fast-tracked, subject to approval, according to the Brisbane City Council and work is to commence later this year.
Schrinner said it would provide a "critical connection" for the 2032 Olympics Athletes Village at Northshore Hamilton.
"Once complete the new bridge will provide a critical connection for people walking, cycling or scooting along our new Lores Bonney Riverwalk, and also the Brisbane 2032 Athletes' Village at Northshore Hamilton, which is set to host more than 10,000 Olympians and officials, and 5000 Paralympians," he said.
The commencement of construction would be subject to approval from independent planners. Schrinner said the construction would provide $67 million in local industry investment and about 140 jobs.
Schrinner said the investment in a green bridge would better connect the area for active transport users.
"The final design, which has been submitted as part of the application, has been refined following community feedback, and shows an 80m-long bridge with an arch design," he said.
Schrinner said the colour palette reflected the area's Moreton Bay fig trees and Newstead Park, and would include LED lighting, rest stops and a direct connection to the Riverwalk.
It is part of a $550-million green bridge program across the city, along with the Kangaroo Point green bridge, which has also been expedited.
Northshore Hamilton will be a key precinct in the delivery of the Brisbane Olympic Games in 2032 and it has been earmarked for a "transformation" similar to South Bank.
Deputy Premier Steven Miles said the plans would rejuvenate the existing industrial land
"The Olympics will do for Northshore Hamilton what Expo 88 did for South Bank," Miles said.
"The Village will host more than 10,000 athletes and team officials for the Olympic Games and more than 5000 for the Paralympics.
"Our Athletes' Village will be on Economic Development Queensland-owned land within the Northshore Hamilton Priority Development Area (PDA).
"Hosting the 2032 Games will mean a 10-year pipeline of construction jobs, trade and investment opportunities, and legacy projects that will benefit Queenslanders for decades to come.
"The legacy of the Village precinct is already incredibly important."
After the Games the village would be reimagined for aged care, residential, retirement living, social and affordable housing, key worker, and build-to-rent accommodation.
The Northshore Hamilton PDA was in the final stages of review and would be released for public comment later this year.
A Vaxxas biomedical facility was also hedged for the Northshore precinct, where the manufacture of world-leading, needle-free vaccines would be undertaken, which, Miles said, could also be used for Covid-19 vaccines.
Article Source: www.theurbandeveloper.com
Charter Hall leads the charge with $560m industrial deals
Funds management and development juggernaut Charter Hall has swooped on $560 million worth of industrial properties as it builds its pipeline to service the explosive growth in the ecommerce, data and cold storage sectors.
Defying the pandemic-hit market conditions, it has acquired and settled 17 assets which have lucrative high-quality tenant covenants, with long lease terms ranging up to 16.9 years and located in large industrial precincts with proximity to major infrastructure and metropolitan areas.
Further boosting its $16 billion pipeline, Charter Hall has purchased a number of development sites that come with surplus land for expansion and development. The group has forecast the industrial portfolio will grow beyond $20 billion.
Charter Hall is an ASX-listed $7.75 billion diversified manager that specialises in assets with long leases across the traditional sectors of office, retail and industrial as well as fast-moving consumer foods, pubs, healthcare and childcare.
Charter Hall chief executive David Harrison said the acquisitions build on the group's strong momentum in acquiring high-quality industrial assets in prime locations across Australia.
"We continue to lead the Australian market in deal volume, and our ability to secure high-quality assets off-market continues to deliver long-term value for the business and superior outcomes for our capital partners and investors," Mr Harrison said.
Major tenant customers secured with the latest acquisitions include Australia Post, Toll, Border Express, Cleanaway, Zirconia (Iron Mountain) and state government agencies. One large site is the distribution centre in Lytton, Brisbane leased by Kmart.
Charter Hall industrial and logistics chief executive Richard Stacker said with a further $3 billion of investment capacity together with a captive development pipeline, "we would expect our $16 billion industrial portfolio to grow beyond $20 billion over coming years."
The deals reflect how the country's commercial property sales moved up a gear in the second quarter, with the industrial sector posting the strongest ever quarterly deal flow, the latest Australia Capital Trends report from Real Capital Analytics (RCA) shows.
Benjamin Martin-Henry, RCA's head of analytics, Pacific, said quarterly sales of industrial stock outpaced offices and retail properties combined for only the second time since the start of 2020, having never achieved this feat in the previous two decades.
"This record was despite a relatively quiet first quarter for the industrial market. With a hefty deal pipeline of around $2 billion of industrial deals awaiting settlement, 2021 is highly likely to be a record-breaking year for the sector," Mr Martin-Henry said.
Commercial property sales worth $13.4 billion were closed over the second quarter, up 15 per cent on the same period last year. For the first six months of 2021, volumes reached $21.2 billion, up 11 per cent compared to the same period in 2020.
Together with the Charter Hall deals, Blackstone completed the sale of the Milestone Industrial Portfolio to GIC and ESR for $3.8 billion, while LOGOS, together with partners Australian Super, Ivanhoe Cambridge, TCorp and AXA IM Alts, bought Australia's largest intermodal logistics facility – Moorebank Logistics Park (MLP) in Sydney – for $1.67 billion from Qube.
Article Source: www.brisbanetimes.com.au
Bridge to 2032 – Brekky Ck span approved, missing link for Games athletes' village
Brisbane is set to have another major infrastructure project underway by the end of the year after Lord Mayor Adrian Schrinner lodged the final design of the Breakfast Creek green bridge with planning officers for approval.
The $67 million project is likely to provide a smoother connection for pedestrians and cyclists moving between the fast-growing riverside development at Northshore Hamilton and the CBD.
The 80-metre arch will cross Breakfast Creek to connect Newstead Park with the existing Lores Bonney riverwalk which was part of the now completed Kingsford Smith Drive upgrade.
"This is a crucial step towards securing the final approvals we need to commence work on the green bridge that will provide a $67 million investment in local industry, deliver a new active transport options and create 140 local construction jobs," Schrinner said.
"The Lores Bonney Riverwalk is currently used 2300 times a day, and this new green bridge will improve safety and increase capacity to the riverwalk by creating a continues walking and cycling connection."
He said the Breakfast Creek project would join the now-approved Kangaroo Point green bridge as fast-tracked investments to create jobs as the city headed out of the coronavirus pandemic.
The council has also linked the project to the 2032 Olympics, saying it will be a "key connector" for the planned Athletes Village at Hamilton and provide a critical transport link for the Games.
Two other cross-river pedestrian and cycle links connecting Toowong to West End and St Lucia to West End remain on the council's green bridge program books but are yet to be funded.
The council insists the remaining bridges need federal and state government funding to go ahead.
Article Source: inqld.com.au