Brisbane's most expensive homes: The top properties of 2018
Brisbane's prestige market continued to go from strength to strength last year, with an impressive number of high profile multi-million dollar sales.
Here's what the most expensive homes of the year sold for.
106-110 Virginia Avenue, Hawthorne
SOLD: $11,128,888
Agents: David Price and Garry Price, Ray White East Brisbane
The most expensive property sold in Brisbane last year changed hands in June, when former Arrow Energy chief executive Shaun Scott and his wife Sarah sold their riverfront trophy home for $11,128,888.
The jaw-dropping five-bedroom, six-bathroom home was reportedly purchased by millionaire Anthony Yap, who founded Good Price Pharmacy Warehouse.
The property features two swimming pools, a heated spa, a north-south facing championship-sized tennis court, a boat house, putting green and a private jetty.
27 Sutherland Avenue, Ascot
SOLD: $11 million
Agent: Coronis – Hamilton
The stunning Hamptons-style trophy home owned by Domino's Pizza boss Don Meij sold for a record $11 million in an off-market deal in March last year.
The chief executive of Australia's largest pizza chain had bought the home in 2016 from one of Australia's richest female CEOs, Maxine Horne, and her Fone Zone co-founder and husband David McMahon, for $8.615 million.
Less than two years later, Mr Meij had pocketed a cool $2.385 million profit.
Set on a sprawling 2024 square metres of land, the lavish home has six bedrooms, marble en suites and a stunning outdoor entertaining space with resort-style gardens, infinity-edge pool, pool house with outdoor kitchen and expansive verandahs.
It's located in one of Ascot's – and indeed, one of Brisbane's – most prestigious streets, where the previous street record was $10.2 million.
36 Needham Street, Fig Tree Pocket
SOLD: $7.5 million
Agents: Matt Lancashire and Christine Rudolph, Ray White New Farm
Clive Palmer bought this mega-mansion trophy home for a song when he paid $7.5 million in January 2018.
The sprawling seven-bedroom, nine-bathroom waterfront estate owned by embattled business owner Peter Bond had been on the market since Linc Energy went into receivership in 2016 with debts of more than $300 million.
Mr Bond and wife Louise paid $9.5 million for the property in 2009. At one stage they had it listed for sale for $11.9 million but had no takers, withdrawing it from the market for some time.
They took it to auction in August 2017 and despite strong bidding that reached $9.25 million, the couple instructed their agents to pass the property in.
By February, the news that Palmer had secured it for $7.5 million was out.
It was a busy year for Palmer on the property scene – later that year he snapped up a some new beachfront digs on the Gold Coast, dropping a cool $12 million on a Hedges Avenue house.
1A Eldernell Terrace, Hamilton
SOLD: $7.25 million
Agent: Alma Clark, Alma Clark Real Estate
Dominos boss Don Meij may have sold his spectacular Ascot home but he was hardly swapping it for something dire – property records show he settled on this hilltop Hamilton residence only one month before he sold his Sutherland Avenue house.
The five-bedroom, four-bathroom house set on 910 square metres of land features stunning city and river views.
150 Adelaide Street East, Clayfield
SOLD: $7 million
Agent: Matt Lancashire, Ray White New Farm
This landmark Federation home smashed blue-chip Clayfield's suburb record when it sold in October for $7 million.
Home to the late Sir Edward and Lady Dorothy Williams for 60 years, Clonlara drew attention from buyers across the country keen to secure an estate of such significance.
Features include 3317 square metres of manicured grounds, two championship-sized grass tennis courts, a pool and stunning original period details such as a grand entry foyer to formal dining and lounge rooms, ornate plaster and pressed metal ceilings, solid timber walls and leadlight windows.
5/81 Moray Street, New Farm
SOLD: $6.5 million
Agent: Brett Greensill
The most expensive apartment sold in Brisbane last year was this luxury riverfront residence in the sought-after Aquila building on Moray Street.
Located on level five with knockout river and city views, the property settled in March.
It has three bedrooms, three bathrooms, three car spaces and expansive living areas that make the best of its position. The spectacular penthouse upstairs on level 10 is currently listed for sale.
30 Windermere Road, Hamilton
SOLD: $5.95 million
Agent: Dwight Ferguson, Ray White Ascot
Set on a sprawling 2024 square metres of land in one of Brisbane's original prestige suburbs, 30 Windermere Road sold in April last year.
Perched high on the hill, the house has a 3000-bottle wine cellar, championship-sized tennis court, pool and beautiful period features.
30 Kitchener Road, Ascot
SOLD: $5.5 million
Agent: Matt Lancashire, Ray White New Farm
This ultra modern residence in the heart of dress circle Ascot, designed by top architect Shaun Lockyer, was lauded for its sophisticated yet innately practical design.
With five bedrooms and four bathrooms on 898 square metres of flat land, the house's atrium-style design allows visibility throughout the whole house. With gardens designed by landscape designer Steven Clegg including a huge vertical garden at the back of the house, it was highly sought-after by buyers wanting that ultimate family home.
8 Sentinel Court, Cleveland (Raby Bay)
SOLD: $5.25 million
Agent: Ryan McCann, First National Cleveland
A luxury home in the Redlands described as "the ultimate beachfront mansion" sold for $5.25 million in September.
The six-bedroom house at Raby Bay sits in a street that locals liken to Hedges Avenue on the Gold Coast, renowned for its rich-list owners and multi-million-dollar properties.
The property sprawls on 1426 square metres of waterfront, has its own private beach, boat ramp, and seven-car garage with drive-through access to the sand.
No expense was spared when it was built 15 years ago — the kitchen cost $150,000 alone, and the nearly 15 metres of frameless, glass bi-fold doors cost the original owner $189,000.
There are only 16 houses in Sentinel Court on that stretch of beachfront, and they share a large boat marina which was built for their exclusive use.
41 Dickson Terrace, Hamilton
SOLD: $5.25 million
Agent: Dwight Ferguson, Ray White Ascot
This brand new contemporary home on Hamilton Hill didn't even make it to being listed online before it was snapped up by a local Brisbane buyer.
Marketing agent Dwight Ferguson said the house was going to be sold by auction but two offers came in days before it hit the market, with one of them too good to knock back.
Spanning three levels with 180-degree views of the Brisbane River, the house has four bedrooms, four-and-a-half bathrooms and an internal lift.
80/35 Tribune Street, South Brisbane
SOLD: $5.2 million
Agent: Phillip Rand, YPM Group
The title of second-highest apartment sale of the year went to this sprawling 380-square-metre property on level 18 of the Emporium Residences.
Sold to a local Brisbane buyer in September last year in an off-market deal, the apartment boasts incredible river and city views, four bedrooms, 3.5 bathrooms, two studies and three car spaces.
17 Ningana Street, Fig Tree Pocket
SOLD: $5.1 million
Agent: Cathy Lammie, Cathy Lammie Property
This grand residence set on 13,000 square metres of land with 82 metres of Brisbane River frontage sold for $5.1 million.
Not only did it have the impressive river frontage with a private pontoon, it also had more than 160 metres fronting the adjacent Cubberla Creek.
The house has five bedrooms, five bathrooms, two studies, temperature-controlled wine cellar, gym, sauna, tennis court and pool.
127 Laurel Avenue, Chelmer
SOLD: $5 million
Agent: Jason Adcock, Adcock Prestige
Sold under the hammer in April last year for $5 million, this beautiful Chelmer estate is considered to be one of the best riverfront blocks in the area.
With 3122 square metres of land and 40 metres of river frontage, the property is grand and vast in proportions – it features a house with two levels across two buildings, beautifully manicured grounds with established trees, grass tennis court, pool and undercover terrace.
19 Lawes Street, Hamilton
SOLD: $5 million
Agents: Ken Scrogings and Clint Devereaux, Northside First National
The deal was sealed on this property in October last year. A stunning contemporary residence on Hamilton Hill designed by M3 Architecture, the house was an attractive proposition for families vying to get into the Ascot State School catchment.
The 500-square-metre house has five bedrooms, study, soaring ceilings, stunning city views, pool and large grassy backyard.
20 Priestley Road, Bridgeman Downs
SOLD: $4.9 million
Agent: Sarah Hackett, Place Estate Agents – Bulimba
This sprawling western suburbs residence was on the market less than 30 days before it was snapped up for $4.9 million.
Built in 2010, the house is a whopping 970 square metres under roof. Outside, there's 10,000 square metres of land with a pool, 10-person spa, championship-sized tennis court and kids' playground.
16 Scott Street, Hawthorne
SOLD: $4.875 million
Agent: Sarah Hackett, Place Estate Agents – Bulimba
Records show this European-inspired riverfront residence sold for $4.875 million in April last year.
The house has five bedrooms and three bathrooms on 791 square metres of absolute riverfront land.
27-29 Sutton Street, Chelmer
SOLD: $4.83 million
Agent: Jason Adcock, Adcock Prestige
Three days is all it took for this five-bedroom, four-bathroom riverfront estate to be snapped up for an impressive $4.83 million.
The resort-style property features beautifully manicured grounds, tennis court, pool and multiple outdoor entertaining spaces that take in the river views.
5/2 Scott Street, Kangaroo Point
SOLD: $4.5 million
Agent: Simon Caulfield, Place Kangaroo Point
Located in the exclusive residential building Walan, this luxury whole-floor apartment sold to a buyer who was relocating from a suburban house further out of the CBD.
Records show the 383-square apartment was sold just before Christmas last year.
58 Retreat Street, Bridgeman Downs
SOLD: $4.42 million
Agent: Sarah Hackett, Place Estate Agents – Bulimba
This gorgeous American-style estate set on just over a hectare was bought for $4.42 million in June last year.
However, its new owner has never lived there – he has already changed his mind and decided to buy another property. If this house is the one he's offloading, the new place must be something incredible.
The house is light-filled and extravagant in scale — with an 800 square metre interior, it includes five bedrooms, four bathrooms and seven car accommodation. But it's the grounds that are truly beautiful — sprawling, manicured and boasting a full size tennis court and multiple outdoor entertaining spaces, even the pool looks grand.
The house is now back on the market, listed with Brenton Faehrmannof Place Estate Agents – Bulimba.
Source: www.domain.com.au
The retreat of property investors: which State has been most impacted?
Property investor activity in the Australian housing market has been falling since early 2015, after macro-prudential policies were implemented in Australian mortgage lending.  Apart from a brief 'bounce' in 2016, investor participation has been consistently trending lower. The latest ABS housing finance data shows the portion of housing finance for the purchase of property lent to investors fell to a fresh record low of 23.5% in August. This is significantly lower than the decade average of 36.1%.
 The decline of the property investor has been brought about by multiple factors. These include:
temporary policies implemented between 2014 and 2019, which limited lending products favoured by investors;
mortgage rate premiums for investor loans;
less appetite for high LVR and interest only lending from the banking sector;
less certainty around prospects for capital gains;
high levels of housing construction which have softened rental returns; and,
the recent global pandemic, which has created a particular negative demand shock to the rental market, thereby further inhibiting returns.
But can we expect investor activity to keep declining? When comparing investor activity at the state level with CoreLogic rental data, there are clear differences between markets that may appeal to investors, versus those where the retreat could last longer.
NSW. For the past decade, investor participation in mortgage activity averaged 41.9% across NSW and moved through a record high in late 2014 when investors comprised 55.6% of mortgage demand. By August 2020, investors as a proportion of housing finance had fallen 28.2 percentage points from that peak, to 27.4%.
Across NSW, returns to investors vary greatly by submarket in both the growth of the value of property assets and rental return. Broadly however, dwelling values across NSW sit 3.5% below the record high reached in July 2017. Gross rental yields across the state were 3.23% in September, which is just 2 basis points off the record low from October 2017.
Rental market performance has been highly varied through the COVID-19 period. As one of Australia's two major international cities, the closure of international borders has created significant shock to the rental market, where new migrants to Australia typically rent. Outer suburban and regional markets have seen upward pressure on rents, but the wind-back of stimulus to households affected by COVID, and cheaper rents closer to the city, may erode this growth over the coming months. Ultimately, the biggest boost to investor returns, and an uptick in investor activity, will be dependent on international travel resuming to Australia.
VIC. Victoria, namely Melbourne, had the highest exposure to overseas migration as a source of new housing demand prior to COVID-19, which has significantly impacted rental values, particularly those in inner city markets. Across Greater Melbourne, unit rents have declined 5.5%, but in submarkets such as Melbourne City, unit rents have seen much more acute declines of -16.2% since March. Gross rental yields across the state were 3.4% in September, down from 3.7% one year ago.
With dwelling values also down 5.5% across Melbourne, and half a per cent across regional Victoria since the pandemic, investor interest is likely to remain subdued until international travel resumes. Investors who can afford low or no rental income may take advantage of lower property values towards the market trough.
QLD. Investor participation in the QLD dwelling market shifted significantly lower over 2017, and again with the onset of the COVID-19 pandemic. Inner Brisbane in particular has seen high levels of unit development, which has placed downward pressure on rents over time. Since the onset of Stage 2 pandemic restrictions in March, Inner Brisbane unit rents have declined a further -4.8%.
Despite a long period of high supply and subdued investor participation, gross rental yields across the state are far higher than NSW and VIC, largely due to relatively low dwelling values. A typical dwelling value at September was around $505,000 across Brisbane, and $388,000 across regional QLD. Gross rental yields across the state were 4.8% in September, down from 5.0% a year ago.
SA. South Australian rental markets have been tightening for the past few years, with positive growth in the Adelaide rental market since 2017. At September, Adelaide had the second highest annual rent value growth of the city markets at 2.6% over the year, putting rental income growth well above inflation.
Despite the stronger fundamentals, investor participation as a share of mortgage activity has continued to decline. The portion of investor finance was 20.4% at August, down from the decade average of 31.7%. However, the rate of decline in investment activity has not been as steep as in other parts of the country. Between record low mortgage rates, low dwelling prices, volatility and a tightening rental market, South Australia may see an increase in investor participation over the coming quarters.
WA. Western Australia has actually seen a turn in investor participation, and is bucking the general trend of subdued investor activity. Since bottoming out in April at 14.5%, the share of mortgage finance for the purchase of property to investors has climbed to 17.0%. This comes after a long period of correction in the Perth property market, which saw momentum gradually gathering in prices and rents from early 2020. Rental values across Perth grew significantly higher than the national average, at 4.8% in the year to September, which will likely see investor participation continue to rise. Typical gross rent yields across WA were 4.7% at September, up from 4.6% one year ago.
TAS. For years, Tasmania has been a source of strong capital and rental growth. Between annualised growth and rental return, total annualised return was 12.3% across the state for the past five years. However, COVID-19 has created a severe disruption to the rental market. Unit rent values in particular have declined -5.6%, which is the steepest fall of the capital city markets. The loosening of rental markets since COVID-19, which has likely had something to do with Airbnb properties converted to the long term market, has provided some much-needed relief for renters. With a steep retreat in investor participation since March, first home buyers may also face less competition. However, the return of international and inter-state travel would likely see rental markets tighten once more, as short-term accommodation owners revert their properties in preparation for increased tourism.
ACT. The portion of investment across the ACT does not appear to be as disrupted by COVID-19 as other states and territories, but has still trended down over time. Investor share of mortgage activity has fallen to 24.6%, from a decade average of 32.6%. Gross rental yields have compressed across the region, from 4.7% in September 2019 to 4.5% at September 2020. This is likely the result of dwelling value increases since the onset of COVID, and may weaken investor interest in the coming months.
NT. Across Darwin, rental yields are the highest of any capital city market at 5.9%. However, this is has largely been a function of a long property price correction, where both rent values and property values have declined over time. The start of 2020 has signaled a recovery in values, with Darwin dwellings up 2.7% from March through to September. Although investor participation was the lowest of the states and territories at 12.6%, the sheer cyclical correction of Darwin values sees the typical dwelling value at just under $400,000, and may see a gradual recovery in investor interest.
The patterns in respective rental markets suggest that from an affordability and yield perspective, smaller capital city markets may see increasing popularity from investors in the coming months. For the traditional investor markets such as inner city Sydney and Melbourne, COVID-19 has triggered a further retreat of investors that is likely to last until overseas migration and travel resumes.
This article is republished from corelogic.com under a Creative Commons license. Read the original article.
'Flicked a switch': Buyers bid big at South East Queensland auctions
A four-bedroom home in Mermaid Waters garnered so much interest that buyers from Denmark, Saudi Arabia and the United States inspected the property on FaceTime.
But it was a Queensland buyer who snapped up the waterfront home at 20 Tequila Court for $1.71 million.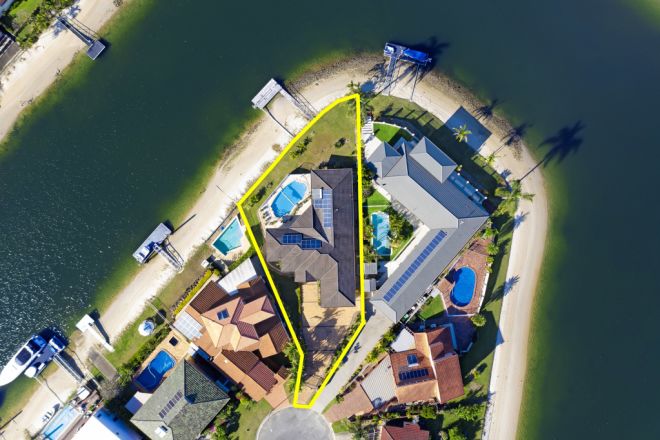 20 Tequila Court, Mermaid Waters QLD 4218
It was the first time the home, on the Gold Coast close to Broadbeach, had been offered for sale since being built 36 years ago.
Ray White Mermaid Beach co-principal Conner Malan said the buyer, a woman from Toowoomba, was one of 14 registered bidders on the day.
"She used an advocate, who was very flamboyant," Mr Malan said. "He was bidding in eights trying to convince the other bidders he was bidding for a Chinese buyer."
The winning bidder would now be calling the property her forever home, and was planning on some renovations, he said.
The property was one of almost 50 auctions held at the weekend across South East Queensland.
Brisbane's preliminary auction clearance rate sat at 52 per cent, after 46 auctions were scheduled and 25 results reported. Five properties were withdrawn from auction on Saturday.
In Brisbane's western suburbs, 23 buyers registered to bid on a very popular property.
The property, at 7 Salisbury Street, Indooroopilly, had a four-bedroom removable home on a double block of land, which many buyers were interested in.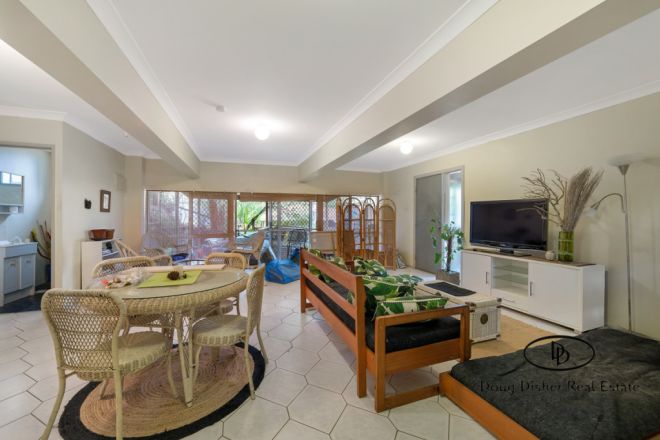 7 Salisbury Street, Indooroopilly QLD 4068
The home was snapped up by a developer/investor for $1,191,000 after an action-packed auction.
Doug Disher Real Estate director Doug Disher said bidding opened at $1 million, setting the scene for other buyers.
"There were some people there because they wanted to be close to schools," Mr Disher said.
So many people turned up for the auction that some had to be asked to move onto the street or a safe distance away to allow for COVID-19 social distancing.
The vendor, who lives overseas, watched the action unfold through a live stream, Mr Disher said.
"They were selling because the home was surplus to their needs," he said. "[They] were delighted with the result."
In Bulimba, in Brisbane's north-east, a four-bedroom Queenslander on a low-maintenance block at 7 Birkalla Street sold under the hammer for $1,452,500.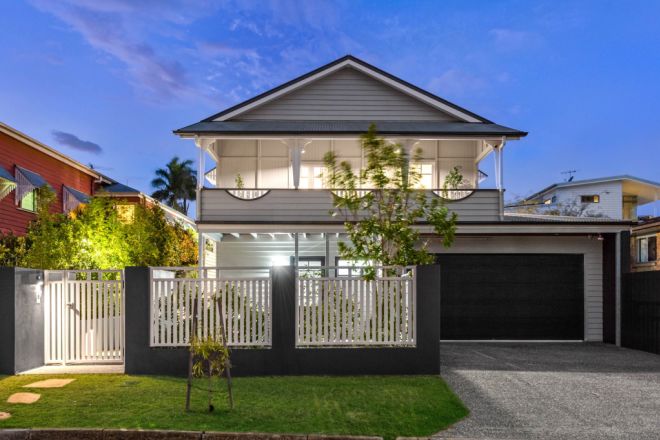 7 Birkalla Street, Bulimba QLD 4171
Ray White Bulimba's Jonathan Peck said the vendors, who had owned the property for 10 years, undertook a full renovation four years ago.
"They're delighted to be able to move onto their next chapter," Mr Peck said.
Eight buyers registered to bid on the property that had been inspected by more than 60 people in the past four weeks, Mr Peck said.
"The Brisbane property market continues to be red hot and Bulimba has now been on an upward trajectory for some time – it's great to see so many buyers out and about," he said.
Another fully renovated Queenslander at 19 Gordon Street, Hendra, sold under the hammer on Saturday, for $1,058,000.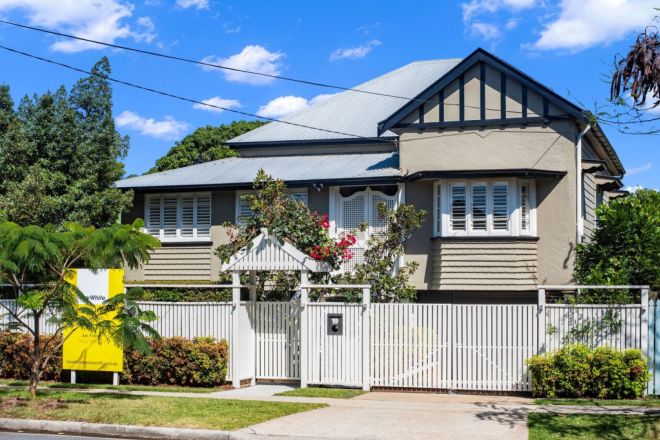 19 Gordon Street, Hendra QLD 4011
The four-bedroom home, also in Brisbane's north-east, attracted four registered bidders, who fought it out for the keys.
Ray White Metro North's Jon Finney said in the end it came down to two bidders, both young professionals, wanting to buy the home, which included large, decked outdoor entertaining areas.
"The winning bidder had missed out on three previous properties so they were determined to buy it with a capital D," Mr Finney said.
The vendors, meanwhile, offloaded the home to make a full-time move to the Sunshine Coast, he said. Such sales showed how strong Brisbane's auction market had become in the latter part of 2020.
"The confidence is here as strongly as it was lacking last year," Mr Finney said. "There's been a massive turnaround – it's like a massive light switch has been flicked on."
This article is republished from domain.com under a Creative Commons license. Read the original article.
Sunshine Coast rentals dry up, with real estate agents citing investor sales to owner-occupiers
The Sunshine Coast's increasingly tight rental market has pushed some renters into caravans, garages and other short-term accommodation until they can find a new property.
Key points:
REIQ figures show rental vacancy dropped from 1.9 per cent in June to 0.5 per cent, making it an extremely tight market
David Powe said his Noosa agency had next to no available rental properties on its books
Single mum Talitha Ellery said she was applying for up to 40 properties a day, and was now paying "way too much for what we have"
Figures from the Real Estate Institute of Queensland (REIQ) show the region's median availability in September was 0.5 per cent, a significant drop from 1.9 per cent in June.
The figures showed several areas had less than 1 per cent vacancy in September, including Coolum Beach and Pelican Waters at 0.3 per cent and Nambour at 0.2 per cent.
An REIQ spokesperson said availability of 2.5 to 3.5 per cent was considered healthy, 1.5 to 2.5 was relatively tight, and anything below 1.5 was extremely tight.
"It shows that there's very limited stock around," the spokesperson said.
Real estate agencies in the area confirmed this.
David Powe of McGrath Estate Agents, Noosa, where the vacancy in September was 1.1 per cent, said his agency had next to no available rental properties on its books.
"Whenever you get [a vacant property] now, it just seems like just heaps of people inquiring … and people trying to call in favours … because they're so desperate," he said.
Amy Ryan of Caloundra City Realty said the demand had gone crazy in the last few months, and that it could be quite upsetting hearing the stories of tenants' differing situations.
"Owners are needing to move back into their properties because they've had their circumstances change … or say an owner's lost their job and they need some extra money, so they've had to sell that property, and that's gone to an [owner-occupier], so that tenant can no longer stay in the property," she said.
"It's quite sad to see, really."
Temporarily moving to a caravan
Talitha Ellery had to temporarily move herself and son Roman into a caravan after two months of unsuccessful applications and a looming Term 4 start date with a new school.
The pair relocated from the Gold Coast after Roman was awarded an ongoing soccer scholarship at Peregian Beach College.
Having been with her last agent for four years, with all her tenant history ledgers and reliable employment history to show, Ms Ellery did not expect the rental search to be so challenging.
"Weeks and weeks kept ticking by and I still was not getting accepted or approved for anything," she said.
"And that's when, after a few conversations with real estate agents, I realised the demand in what's happening up here."
She was able to store her furniture with her mum while living in the caravan for three weeks until finally landing a rental.
"It was hard to be brave for [Roman]. It makes me a little bit emotional," Ms Ellery said.
After applying for 30 to 40 properties, it was not until she offered more rent and her ex-partner put his name on the applications, that she was approved.
"I absolutely bawled my eyes out," she said.
"I know I am paying way too much for what we have and that does feel unfair.
"It does worry me [for] single mums and single dads, or just one-wage earner families."
Down to the wire
Anthony Ridley and his wife are down to the wire trying to find a new home for their five kids before the October 18 leave date on their current rental.
"It's been pretty crushing for myself and my wife … We're trying to sort of shield the kids away from it," he said.
He and his family were given 90 days to vacate their home of five years when the owner decided to sell, but on one income and part-time salary they needed a month to get the bond and moving costs together.
Mr Ridley said they submitted applications for about 20 to 25 properties in the last month, and were looking into break-leases and the National Rental Affordability Scheme.
"It's pretty nerve-wracking thinking that we're potentially on the verge of being homeless in a week and a half," he said.
The option of renting a caravan or an Airbnb temporarily is financially unviable, considering they would have to put furniture in storage and pay higher weekly rates.
"We've been told very clearly by our current real estate, if we're not out by the 18th there'll be eviction," he said.
"But because I've got the kids, and especially because I've got younger kids, that's what makes it so, so hard and so stressful and so crushing."
Living out of suitcases
In the process of spending three and a half months applying for rental homes, Becky Shandeliar had to put her things in storage and move into the property of an extended family member.
"It hasn't been ideal, but I've been very lucky to have that," she said.
"I've been living out of suitcases, and just constantly having that feeling of being deflated every time you get knocked back, or turning up to a property where there's literally 50 people lined up."
A longtime Sunshine Coast resident in the arts industry, Ms Shandeliar was terrified when she was told she'd have to move out of her temporary accommodation by the end of that week, which was later renegotiated.
"And there's a recession coming, so you think, 'Shit, if I don't get in some way soon, am I ever going to be able to get in anywhere? … And there's people with kids that are going through this.
"Seeing the [online rental] threads of people in just dire need of finding places and pleading with people, 'Please help me. I've got three days until I'm homeless', it's really confronting, and not what I would have expected to be happening on the Sunshine Coast this year."
This article is republished from abc.net under a Creative Commons license. Read the original article.